R. Edward Glenn, Jr., M.D.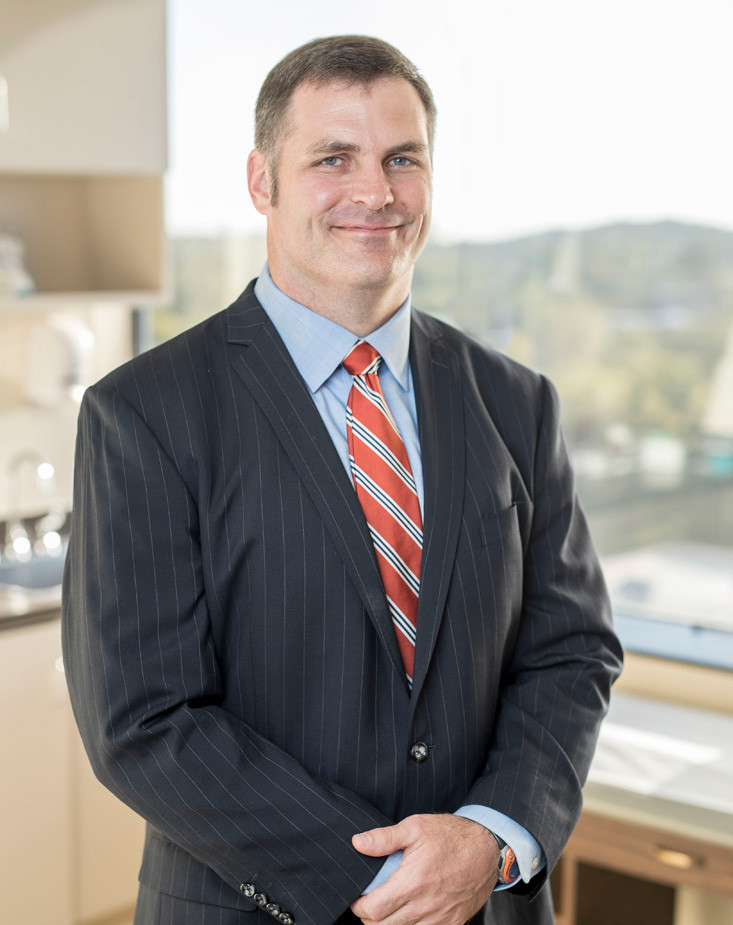 R. Edward Glenn, Jr., M.D.
---
Biography
Dr. Glenn specializes in the treatment of shoulder and sports related injuries. He is a Board Certified Orthopaedic Surgeon with an additional Subspecialty Certificate in Sports Medicine and is fellowship trained in shoulder arthroscopy, reconstruction and joint replacement. Dr. Glenn's practice is also in arthroscopic rotator cuff repair and reverse total shoulder replacement.
Dr. Glenn graduated Magna Cum Laude from Clemson University in 1995 with a degree in Biochemistry. He attended Vanderbilt University School of Medicine and completed his residency in Orthopaedic Surgery at Vanderbilt University Medical Center. Following residency, Dr. Glenn completed a sports medicine fellowship at Rush University Medical Center in Chicago, Illinois. While in fellowship, Dr. Glenn developed a particular interest in open and arthroscopic shoulder surgery as well as shoulder arthroplasty.
As a former collegiate football player, Dr. Glenn brings a unique level of understanding to athletic-related injuries. He was named to College Football Association's Academic All-American Team in 1994 and was Clemson's first ever recipient of the Atlantic Coast Conference's Jim Tatum Award and Weaver-James Postgraduate Scholarship. In residency, Dr. Glenn served as team physician for Stratford High School and was an assistant to the team physician for the Vanderbilt men's soccer team. During his fellowship, he was team physician for Lincoln Park High School as well as a team physician for the Chicago Steel hockey team. He also served as an assistant to the team physicians for the Chicago Bulls and Chicago White Sox. Dr. Glenn was the team physician for the former Nashville Kats Arena Football Team and served as the team physician for Ensworth High School for 15 years.
Dr. Glenn is a member of the American Orthopaedic Society of Sports Medicine and the American Academy of Orthopaedic Surgeons. He has co-authored publications in leading orthopaedic journals and has presented research at national meetings. He was a co-recipient of the 2005 Cabaud Memorial Award presented by the American Orthopaedic Society of Sports Medicine for his work on osteochondral grafts in an animal knee model.
Dr. Glenn is a member of the medical staff at both Saint Thomas Midtown and Saint Thomas West Hospitals.
Outside of medicine he enjoys spending time with his wife and three daughters. He also enjoys football, weightlifting, reading and music.
Undergraduate:
- Clemson University, Clemson, SC (B.S. - Biochemistry - 1995), Magna Cum Laude
Medical School:
- Vanderbilt University School of Medicine, Nashville, TN (M.D. - 1999)
Internship:
- General Surgery, Vanderbilt University Medical Center, Nashville, TN (1999 - 2004)
Residency:
- Orthopaedic Surgery, Vanderbilt University Medical Center, Nashville, TN (1999-2004)
Fellowship:
- Sports Medicine, Rush Presbyterian St. Luke's Medical Center, Chicago, IL (2004-2005)