March is National Athletic Training Month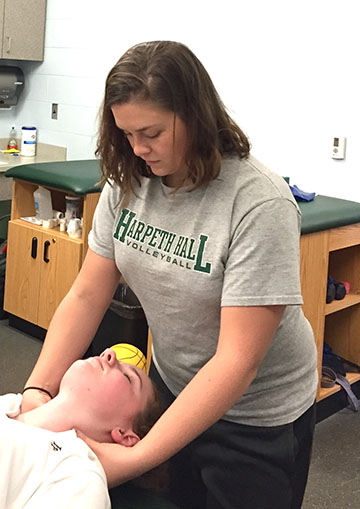 March is National Athletic Training Month. Athletic trainers are health care professionals who collaborate with physicians and specialize in the prevention, emergency care, diagnosis, treatment and rehabilitation of injuries and sport-related illnesses. Today TOA highlights Megan Gillespie, a certified athletic trainer who cares for and treats athletes at Harpeth Hall, an independent college preparatory school for young women, in Nashville.
An Unsung Harpeth Hall Hero
Article by - Kelsey Kay Herring (first published in Logos)
Photo by - Rachel Brown
As the school day comes to a close around 3:10 pm for most Harpeth Hall students, Megan Gillespie's day is just starting up. Harpeth Hall's athletic trainer, Megan, works with a slew of injured athletes who need professional care and advice throughout the day, every day.
Handling the most common injuries with ease, such as ankle, low-back, and hip pain, Megan also manages more serious injuries, like concussions, and communicates with doctors throughout Nashville. She is officially employed by Results Physiotherapy, a local physical therapy clinic, in partnership with Tennessee Orthopedic Alliance, and she continually guides the athletes through this healing process even if they are not on Harpeth Hall's campus. As a certified athletic trainer, Megan has been able to help the athletes heal and create a safer environment for the Harpeth Hall athletics program.
She began her career in sports medicine because of her undeniable love for athletics. She says, "It was an incredible blend of the sports I loved and let me play a role as a healthcare professional in the world." Megan works with Coach Romero, Harpeth Hall's strength and conditioning coach, in an effort to avoid injuries before they occur by combining her knowledge of the female body and Coach Romero's understanding of the necessary exercises. She also believes that the availability of a nutritionist on campus would be beneficial to the athletes in order to discuss dieting, weight, and other nutritional needs. She believes that a professional would be able to dispel rumors and discuss new, sometimes unhealthy, fads and diets that are promoted through social media.
The training room, located near the Green gym, is stocked with physical therapy tools, an ice machine, and an ice bath. Megan uses Kinesio tape to wrap any injured areas in an effort to avoid further pain. The room is usually busy with an onslaught of girls who heat before their practice and ice afterwards. Megan also travels back and forth between practices and games to make sure that no athletes need her immediate attention.
Megan represents the voice of each athlete as they attempt to weave their way through the complicated physical, mental, and emotional parts to the healing process. Athletes from every sport and dance company visit her to discuss their pain and their options. She describes what makes her job worthwhile, saying, "By far, without a doubt, the most rewarding part of my job is seeing an injured athlete return to full play without restrictions and watching them succeed at what they love to do." She is not only a trainer for each athlete, but an advocate for their success and their biggest cheerleader.
Anna Clarke Harrison, a junior, suffered through an anterior cruciate ligament tear, which kept her off the field and away from her soccer team for a season. When discussing Megan's care, Anna Clarke said, "She supported me through the process, keeping me informed on my progress and what was going on with my recovery. She worked with me individually to help me recover as quickly as possible and in the healthiest way possible. Megan knows about me and since my injury, she has made an effort to know me and my body to give me the best care possible." Anna Clarke has fully recovered since her injury, and she attributes this healthy rehabilitation to Megan.
Megan Gillespie's hard work for each, individual Harpeth Hall athlete has contributed to their personal success and, eventually, the success of each team and dance company. Her professional care combined with her personal investment has and will continue to improve the safety of the Harpeth Hall athletes.
For more information on athletic training visit, nata.org.
« Back to news
Latest Blog Articles