Christian N. Anderson, M.D.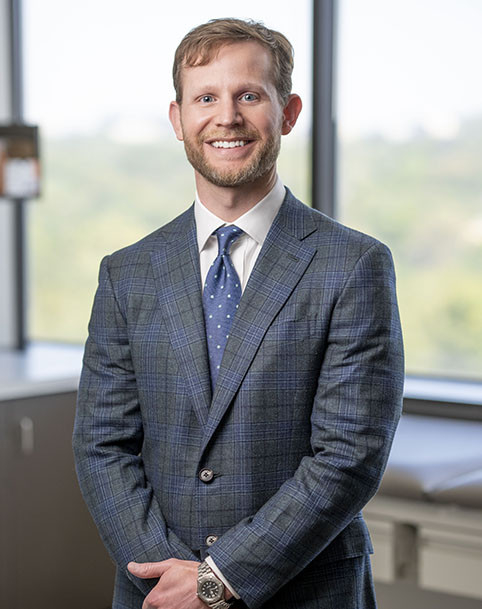 For existing patients, any direct questions can be emailed to your doctor directly
Email Your Doctor
Christian N. Anderson, M.D.
---
Biography
Dr. Christian Anderson is a board-certified, fellowship-trained orthopedic surgeon, exclusively specializing in sports medicine and arthroscopic surgery of the knee, shoulder, and hip.


His areas of expertise include ligament, meniscal, cartilage injuries in the knee, patellar instability, femoroacetabular impingement, hip labrum, hamstring, and gluteal injuries, shoulder instability, rotator cuff tears, and glenoid labral tears.


Surgical procedures he performs include growth plate sparing pediatric ACL reconstruction, adult ACL reconstruction, meniscal repair, meniscus transplant, meniscal root repair, cartilage restoration procedures (OATS, MACI), MPFL reconstruction, osteotomies of the knee, multiligamentous knee reconstructions, hip labral repair and labral reconstruction, gluteal repair, rotator cuff repair, glenoid labral repair, as well as triceps and biceps repairs.


He graduated Summa Cum Laude from the University of Tennessee and was selected into the Phi Beta Kappa and Mortar Board honor societies as the top 1% of his peers based on academic performance and leadership. He received his medical degree and completed an Orthopaedic Surgery residency at Vanderbilt University School of Medicine. Following his residency, Dr. Anderson completed a sports medicine fellowship at the Stanford Sports Medicine Center, where he served as a team physician for Stanford University and the San Francisco 49ers leading up to and during Super Bowl XLVII. He currently serves as a team physician for Tennessee Tech University, as well as Dickson County, Cheatham County, and Ezell Harding High Schools.


Dr. Anderson is a Fellow of the American Academy of Orthopaedic Surgeons (AAOS) and holds active memberships in the Arthroscopy Association of North America (AANA) and the American Orthopaedic Society for Sports Medicine (AOSSM), where he served on the Council of Delegates. He currently is currently on the editorial board of the American Journal of Sports Medicine (AJSM) and is a reviewer for the Orthopaedic Journal of Sports Medicine (OJSM), as well as a reviewer of grants for the Orthopaedic and Education Foundation (OREF). He was spotlighted as a "Leader to Know" by Becker's Healthcare in 2016 and has received Nashville's "Top Doctor" award in 2019, 2020, 2021, and 2022.


He has a specific interest in the advancement of sports medicine through research and has published 31 scientific articles and book chapters. He is currently a member of the Pediatric ACL Understanding Treatment Options (PLUTO) and Research on Osteochondritis Dissecans (ROCK) study groups. He also has an interest in development of orthopaedic devices and has received 8 United States and international patents, with an additional 22 pending patents.


Originally from Nashville, Dr. Anderson enjoys spending time with his family, as well as traveling, hunting, and fly fishing—even holding three International Game and Fish World Records, and is an internationally published photographer.


Biomechanical Evaluation of Physeal-Sparing Fixation Methods in Tibial Eminence Fractures
Hip-Femoral Acetabular Impingement
All-Suture Anatomic Footprint Repair of the Distal Triceps Tendon

Undergraduate:
- University of Tennessee B.S. (2002, Biochemistry) 1998 – 2002, Knoxville, TN
Medical School:
- Vanderbilt University School of Medicine M.D. (2007) 2003 – 2007, Nashville, TN
Residency:
- Vanderbilt Orthopaedic Surgery 2007 – 2012, Vanderbilt University Medical Center, Department of Orthopaedics and Rehabilitation, Nashville, TN
Fellowship:
- Stanford Sports Medicine 2012 – 2013, Stanford University Medical Center, Department of Orthopaedics and Rehabilitation, Stanford, CA