At Tennessee Orthopaedic Alliance, our number one priority is our patients. We all take great pride in hearing that our patients are happy with the care we provide. Discover what our patients have to say regarding their office visit, surgical experience or recovery process.
---
Serri L.
Dr. Koch has my utmost respect above all doctors I have ever received treatment from! My confidence and trust in him will find me flying from Colorado to Tennessee for my next surgery. The entire staff is simply wonderful.
---
The Lane Family
A note of thanks for your expertise, ability to communicate, and positive approach and attitude to difficult problems. You make it fun (almost) to see the doctor!
---
Phyllis R.
This was a great experience for such a traumatic time for me - very professional & caring.
---
J. Lewis
I want to thank you for everything. It's nice when physicians like you show an interest and go the extra mile. You did just that, and our entire family appreciates you.
---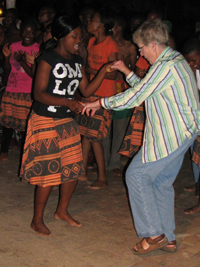 Anne
At 82 years old, Anne had a dream to go on an African safari with her daughter. Unfortunately, the only obstacle between Anne and her dream vacation was a big one—she needed a total knee replacement in both knees.
Determined to realize her goal, Anne was scheduled for a bilateral total knee arthroplasty on Oct. 3 with Dr. Philip Karpos. Less than four months later, she was on her way with her daughter for a four-week tour of Kenya and South Africa.
On the trip, Anne was able to climb in and out of many safari jeeps with ease, dance with the locals and even climb on the back of an elephant.
It's hard to believe when you look at photos from what Anne calls "the trip of a lifetime," that just four months earlier she had a difficult time getting around due to her weak and painful knees.
"If it weren't for TOA's expert treatment, I would have missed out on a very special experience. I owe a very big thanks to Dr. Karpos and his team for making this trip possible."
---